---
Virtual reality is everywhere and is impacting almost everything. So, as designers and brand leaders, what can we do to ensure the products and experiences we create deliver something real? The ever-changing course of technology is changing the way we all do business and we all must understand how it is infiltrating our industries. It's about finding the inspiration, innovation and aspiration behind every new world.
Jackson Thilenius, Senior Director, Pulse by Gettys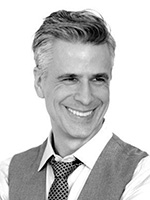 An accomplished painter and musician, Jackson Thilenius brings a singular artistic vision to his work with The Gettys Group. After running his own successful architectural practice for more than 14 years, Jackson joined The Gettys Group in 2013 to develop PULSE by Gettys, an innovative design organization that creates experiential spaces that inspire social interaction and shared life memories.