---
Today's restaurant industry leaders must set the tone for teamwork, service and more. They have to alternate between guiding their teams and serving as a cheerleader to voice full support in challenging times. Restauranteur Meghan Lee will discuss six lessons learned, among them how to retaining great staff and mentor them for success while helping them achieve work-life balance; navigate being a female restaurant owner in a male-dominated industry; challenge standard business practices and daring to be different; how to trust your instincts and stay true to yourself, continually innovate – even after achieving success and more!
Meghan Lee, Owner, Heirloom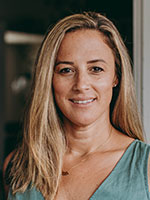 Meghan Lee is the owner of the beloved white house with red shutters, Heirloom restaurant in Lewes, Delaware. A dedicated dreamer, Meghan first entered the restaurant industry as a teen and was enthralled with the craft of bringing communities together through thoughtful food, drink, and vibrant conversation. Her path led her to working in restaurants tucked along the coast, soaking up the rolling hills of Chester County Pennsylvania, the bountiful beauty of Nantucket, the lively spirit of Philadelphia, before settling into Lewes, a town with generational ties, to start her Heirloom journey. Dedicated to cultivating an environment that brings intention to the joy of eating at her table, Meghan built a restaurant that oozes charm, soul, and the celebration of Mid-Atlantic dining. Lee leads her Heirloom team with a true desire to foster a culture that lifts up the spirit of being a restaurateur, and celebrates the genuine connections made in the process. Currently, Meghan lives in the historic district of Lewes with her spirited daughter Reese, boyfriend Jerry, and beloved golden retriever Eli.