---
In a world where doing good business and doing good often seem at odds, Just Fare sees another way and this session will go under the hood and discuss this organization's people-first approach to foodservice operations and design. The session will dive into the tangible ways Just Fare balances profit with people, planet and community by measuring and tracking progress while making delicious meals and designing terrific spaces for culinary teams.
Caetie Ofiesh, Director of Design & Consulting, Just Fare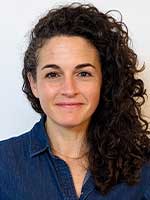 Caetie is a designer and strategist with a multidisciplinary background that spans the food industry, software development and scientific research. She brings curiosity, empathy and a deep understanding of the Bay Area market to her role as Director of Design and Consulting with Just Fare, grounded in her own back of house experience, her commitment to community and a lifetime searching for delicious meals wherever she lives, works or travels.
Prior to joining Just Fare, Caetie worked in several Bay Area kitchens and workplace food programs, including Juicero, ForageSF and the Headlands Center for the Arts, alongside running her own successful pop-up series inspired by her Lebanese family roots and the wild bounty of California produce she encountered when she relocated from the East Coast. Before the current iteration of her career, she worked in academic research and nonprofit management in Washington DC, where she worked with governments and nonprofits on international data collection and analysis projects focused on global health and clean water. This experience in structured research underpins her perspective of curiosity, and drives her to communicate the impact of her work in quantitative goals and metrics.
At Just Fare she guides Design and Consulting projects for clients across workplaces, nonprofits, shared kitchens and food hubs, as well as leads internal business development projects across the company. Caetie and her team look to deliver value and terrific experiences for kitchen teams and client communities alike by designing simple elements with a big impact. She has positioned Just Fare as a leader in sustainable commercial kitchen and food program design. Environmental steps such as kitchen electrification and low/zero waste are a big part of this, but she also champions a holistic approach to sustainability that includes the community, people and finances — everything food programs and the planet need to be successful for years to come.
In the broader Bay Area food community, Caetie has served as a Judge for the Good Food Awards in both the Snacks and Beverages categories, and considers herself a Snack Expert. She has also served as a business plan reviewer for the Mentor Capital Network for their social enterprise cohorts in the Agriculture/Farming and Environment tracks.
Caetie is a Virginia native and holds a BA in Geology from Amherst College and an MA in Geography from George Washington University. She has also studied Printmaking at City College of San Francisco. Caetie is a competitive cyclist, racing road, cyclocross and mountain bikes, and serves as President of the San Francisco Cycling Club.
About Just Fare
Just Fare is building a just world where food is a force for social change.
We make and design for good food — for people who enjoy eating, and for those who want a more equitable and just food system. We believe that by supporting a diverse array of clients we have the potential to help create connection and community among many, and we want to do so in a way which aligns to our values. For this reason, we ground everything we do — from our ingredient sourcing, design approaches, food preparation and business practices, to how we pay our staff and what we do with our revenue — in service of creating a more responsible and ethical world.
In a world where doing good business and doing good often seem at odds, Just Fare sees another way. And we are making it happen, one delicious meal at a time.