---
Uncertain times call for purpose-led action. Understanding how customers attitudes are changing allows you to tailor the restaurant experience and your brand as a whole to them. Get actionable insights on how to redefine your customer experience, and win with your guests so that they not only return but share their experience with others.
Sandra Duff, SVP, Strategy Activation & Operations, Jackman Reinvents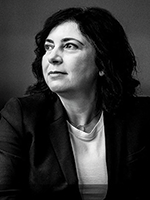 Retail is Sandra's bread and butter. With her hands-on leadership style and ability to lead idea to execution, she is a trusted advisor to C-Suite executives and consistent catalyst for growth. Sandra lives the truth that strategy without action is meaningless—partnering with leaders to build momentum and get to action fast – she leads internal and external campaigns that get people excited and engaged.

Prior to Jackman, Sandra led Marketing Communications work with the retail agency (Perennial) as well as in-house with Longo's (Canadian Grocery chain).